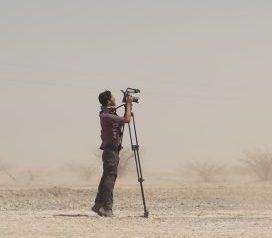 Debashish completed a one-year Film fellowship on wildlife conservation and cultural diversity of Northeast India with Green Hub. During the fellowship he worked for WWF (Human-elephant conflict management), WII (Nomination of World Heritage site), ONGC (photography for Coffee Table book CSR project in Assam). 
He is presently working with Moving Images and Srishti Films on the Vikalp Sangam Series: a series of films on alternative initiatives in India: Sustainable livelihoods for pastoralists in Rajasthan to preserving local heritage in Kerala, the need for community conservation, and sustainable architecture, gender rights amongst others.
He is also part of the team documenting two films on the effect of the invasive species on the Banni Grasslands.